Aroma Creative
ZURICH AS HOST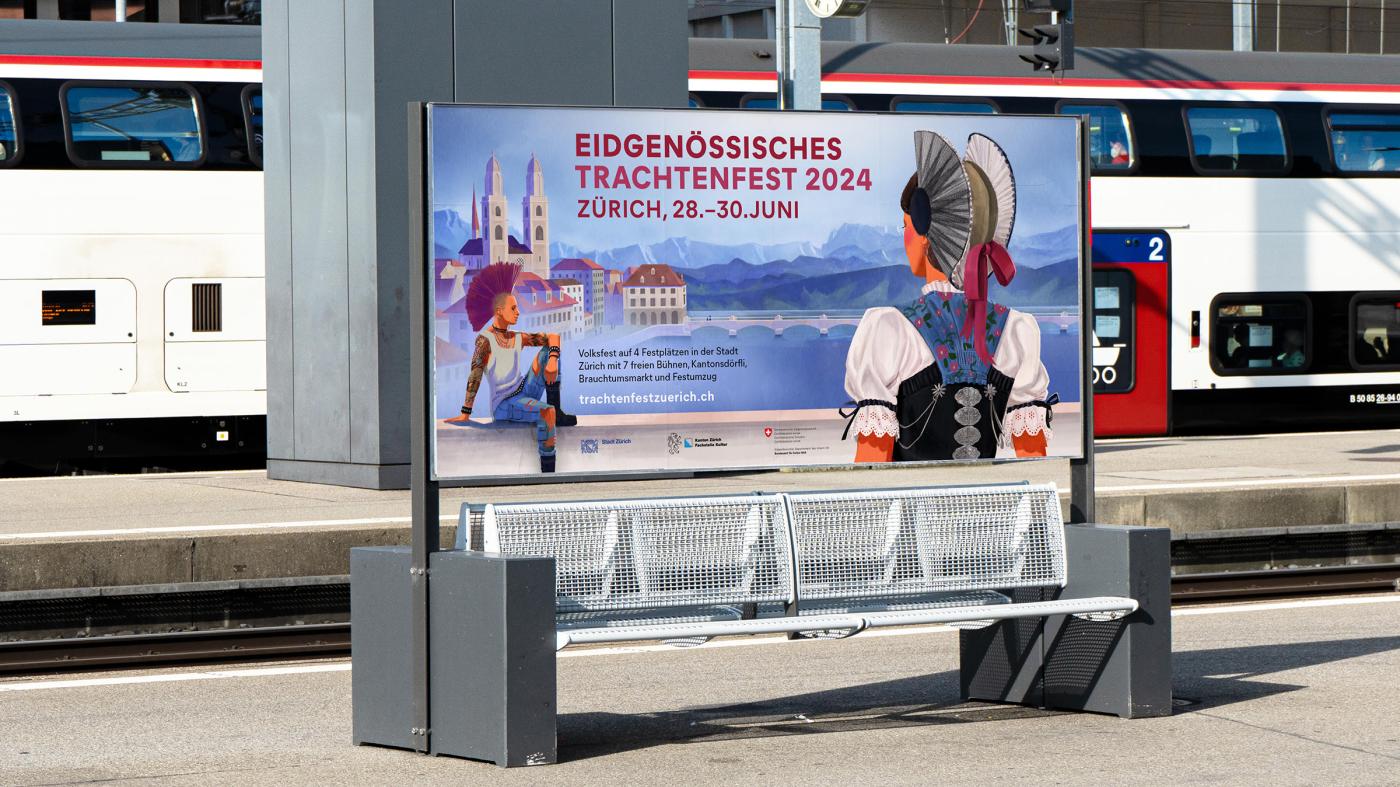 #GRAPHIC DESIGN #COMMUNICATION #CAMPAIGN
The city of Zurich will host the Federal Costume Festival for the third time from 28 to 30 June 2024. Around 100,000 visitors are expected during the three-day programme. Aroma Creative is responsible for the visual appearance. The Aroma Productions team will support the event organisation and implementation.
The three-day folk festival with numerous fairgrounds in the heart of Zurich offers a varied programme and a connecting platform for young and old. From various stages and the traditional costume exhibition to the traditional costume parade as a highlight, the festival invites people to join in the celebrations and participate.
Conceived as a cross-generational and tradition-conscious event, Aroma Creative focuses on young talents in addition to experienced professionals. "Training the Next Gen is a matter close to Aroma's heart. It was therefore obvious for us to assign our apprentices to this great, nationally radiant project with the appropriate support," says Philipp Häcki, Art Director and Next Gen expert at Aroma. This is how the visual appearance - from the logo to the print products - came into being, an independent and need-based visuality.
The poster pays homage to the Swiss poster art of the early 20th century, when painters were still hired to design posters. The poster shows a woman from Appenzell in the traditional costume of Innerrhoden. Her black winged cap of a headdress is juxtaposed with the punk's mohawk haircut, symbolising a cosmopolitan city. The poster was conceived by Aroma and realised by illustrator Olivia von Wattenwyl from Bern.
"Today's unveiling of the motif marks the start of our festival, which was last held in 2010. Around 7,500 participants are looking forward to a large, well-organised festival," says Max Binder, former president of the National Council and president of ETF2024.